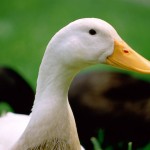 Gooseday-Menü
Cold starter
Terrine of gooseliver with fresh fig and toast
Wine: Szőke Mátyás: Muscat ottonel 2013
Soup
Créme of pumpkin soup with feta-cheese
Wine: Iváncsics Merlot rosé 2013
Warm starter
Goosebreast slices with ruccola and beetroot baked on seasalt-hay, roasted seeds
Wine: Lővér Pinot noir 2011
Main course
Crispy leg of goose (1/2) with steamed cabbage and chestnut,
basil-mashed potatoes
Wine: our actually new-wine offer
Dessert
Home made caramel cake with whipped cream
Vincellér Zenit 2013
Menuprice with wineoffer: 27 EUR/person
Menuprice whitout wineoffer: 20,5 EUR/person
Enjoy Your Meal!
Ez a bejegyzés már 3267 napos. Kérjük ezt vegye figyelembe a tartalom kapcsán!
✖